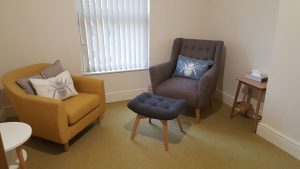 Whet Wellbeing at 38 Chapel Street in Hoyland is a newly renovated and refurbished property offering specialist room hire to therapists, psychologists, hypnotherapists, psychoanalysts, psychotherapists, coaches and counsellors.
Whether you are newly qualified with dreams of starting your own practice, or already well-established with plans to expand your reach, Whet Wellbeing offers a calm inviting space in a convenient location and may be just what you are looking for.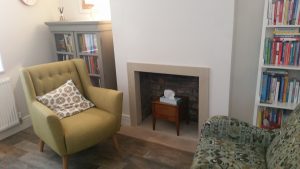 There are three spacious therapy rooms ideally sized for working therapeutically with individuals and/or couples. The third room is large enough to comfortably accommodate groups of around 8/9 people in easy chairs for group work and workshops.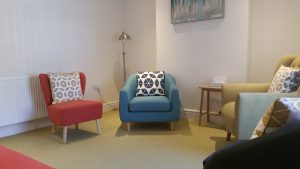 Rental is offered on an ad hoc hourly basis or on a same-day-each-week rolling monthly contract. Half day rental (6 hours) is also availab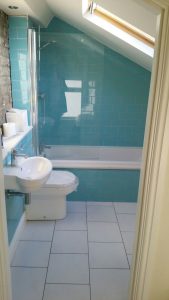 le. Click here to view prices.
Each therapy room is equipped with three fabric-covered chairs, cushions, two clocks, tissues and multiple options for lighting. There are toilet and kitchen facilities.
Free on-street parking is available.
In accordance with Whet's commitment to professional competency and ethical integrity applicants are expected to undergo a formal, but friendly, application process.
For more information or to arrange a viewing please make an enquiry.
---
VENUE FOR WORKSHOPS AND SMALL GROUP WORK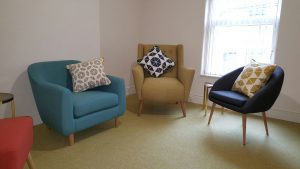 Whet Wellbeing is an ideal low-cost workshop venue for small group work. Our largest room accommodates 8/9 people with 2-3 break-out areas and a kitchenette for refreshments.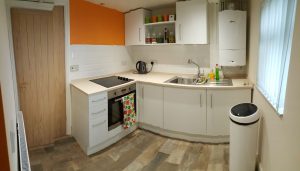 Click here to view prices. To enquire about availability please complete an enquiry form here.