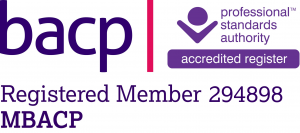 Dip.Psych, Dip.Couns, FD (Open), PgCert Coach, EMCC EQA Senior Practitioner Coach, Cert Couples
Memberships MBACP, MBPsS
Tel – 07803 721013
I offer flexible daytime, evening and weekend appointments.
COUNSELLING Individuals £50, Organisations £55, Concessions £45
I offer a warm, relational approach to counselling. I see my role as helping you make sense of your situation, your thoughts and feelings, through open communication and supportive challenge. By becoming more aware of the nature of what you are experiencing you begin to feel more in control. I can help you with a wide range of issues such as anxiety, depression, relationship difficulties, low self-esteem, career or work-related issues and stressful life events.
I work from the Humanistic assumption that human beings are creative, independent, choice-making and capable of self-reflection. I work with empathy and respect to enable you to develop greater self-awareness and self-responsibility leading to improved confidence, empowerment and change.
COUPLES COUNSELLING £70 for 60 minutes (£5 discount per session when booking 4 or more sessions)
I work with couples to improve communication and resolve issues within the relationship. This involves identifying unhelpful methods of interacting and replacing them with new ways of relating. A second task is to surface deeper thoughts and feelings and to establish where they come from. I work from the assumption that all relationship problems are co-created. Rather than determine blame, my focus with couples is to work towards change and resolution.
INTEGRATED COACH-THERAPY Individuals £100 for 90 minutes (10% discount when booking 4 or more sessions), Organisations £120 for 90 minutes 
This integrated approach works particularly well with young professionals, people with emotionally demanding work roles and professionals who are undertaking a challenging or significant change at work or in their private life.
Similar to coaching, coach-therapy is forward-facing and goal-oriented like coaching but with a therapeutic dimension which deepens the coaching process and enriches the outcome. A key advantage of coach-therapy over coaching is that it can maintain both focus and momentum. As a dual-trained practitioner I work holistically and across the full spectrum of emotion. By working seamlessly I can help you save time, money and emotional upheava
LIFE COACHING £65 for 60 minutes (£5 discount per session when booking 4 or more sessions)
Life coaching takes a holistic approach. It encourages us to pause and reflect on who we are and what we want from our lives. When we flounder it's not uncommon to realise that we have been putting others first too readily and we have forgotten about our own needs. Putting yourself centre-stage is the first step to building a life you will enjoy.
Our work begins with an appraisal of your life so we can identify and prioritise what needs our attention. We will explore your difficulties and challenges and come up with possible solutions. We'll identify your strengths, values and aspirations. You'll discover what is personally meaningful for you and what direction you wish for yourself. If you choose, our work may conclude with a plan outlining your next steps towards your overall goals. Life coaching is about finding clarity, instigating personal change and gaining forward momentum. And you will be so glad that you did.
Qualifications
Certificate in Working With Couples
BACP Certificate of Proficiency
EMCC EQA Senior Practitioner Coach
PgCert Coaching and Mentoring
Foundation Degree in Counselling
Diploma in Therapeutic Counselling
Certificate in Therapeutic Counselling
Conversion Diploma in Psychology – Distinction
BA Dual Hons Fr/Sp
"I highly recommend Rachel as a counsellor. She has helped me to realise what is important in my life and how to move forward. She is a good listener with great empathy and is never judgemental.  She allows you to talk, cry or be silent – whatever you need. Her approach is gentle but gives questions which challenge thoughts and feelings. I have never used counselling before and was unsure of what to expect but if I ever found myself in need of it again I wouldn't hesitate to use her."
"Thank you so much for listening, and being so caring and supportive – I'm so grateful for your balanced, unbiased, thoughtful insight. You made me stop, think and restart a better me!"